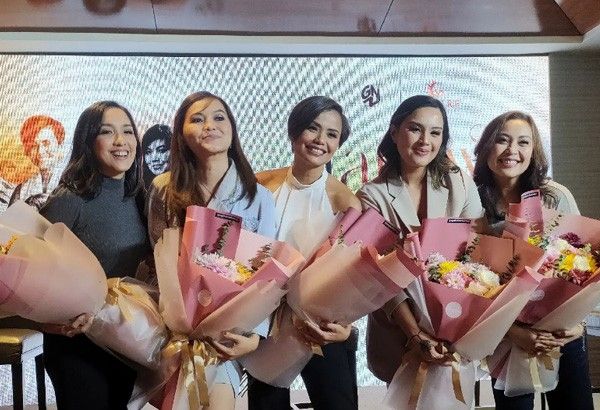 Popular band vocalists Barbie Almalbis, Acel Bisa, Hannah Romawac, Lougee Basabas and Aia de Leon will headline the "Tanaw" concert on November 26, 2022. Philstar.com / Jan Milo Severo
MANILA, Philippines — The "Tanaw" concert of Original Pilipino Music (OPM) vocalists is a celebration of friendship among the rock icons. The women behind some of the most popular rock bands in the country are also set to form a "special group" for their one-night-only concert.
At the recent press conference held at the Solaire Theater, Aia de Leon said that the concert with Barbie Almalbis, Kitchie Nadal, Acel Bisa, Hannah Romawac and Lougee Basabas is their way of showing the relationship they have fostered over the years. They were among the popular solo or band vocalists back in the late 1990s to 2000s.
Aia was the vocalist of Imago until the early 2000s. The same goes for Barbie, Acel, Hannah and Lougee, who were the vocalists of Barbie's Cradle, Moonstar88, SessionRoad, and Mojofly, respectively. Barbie later went solo. Kitchie also became a hit solo artist after she left Mojofly.
"There is no other group of people who will have understood the fullness of my life, in every aspect, except for these ladies," Aia said.
"We grew up in an era together, we paid our dues together. We share a profound joy in making music, writing songs, and performing them in front of a live audience. We've never braved a celebration in this scale together before, and I feel very blessed to be a part of this," she added.
Apart from delivering individual performances that highlight some of the defining moments of their career, they will be collaborating for a special number at their joint concert happening today, November 26, at The Theatre in Solaire, Parañaque City.
"It's going to be a surprise, but let's just say that we're forming a group for a one-night-only performance that will surely delight music fans," Barbie said.
The six iconic artists are set to showcase a dynamic set list for their supporter's pleasure. "Tanaw" marks the first time that they will be performing together for a concert.
The one-night show is produced by GNN Entertainment and co-presented by Solaire Resort Entertainment City.