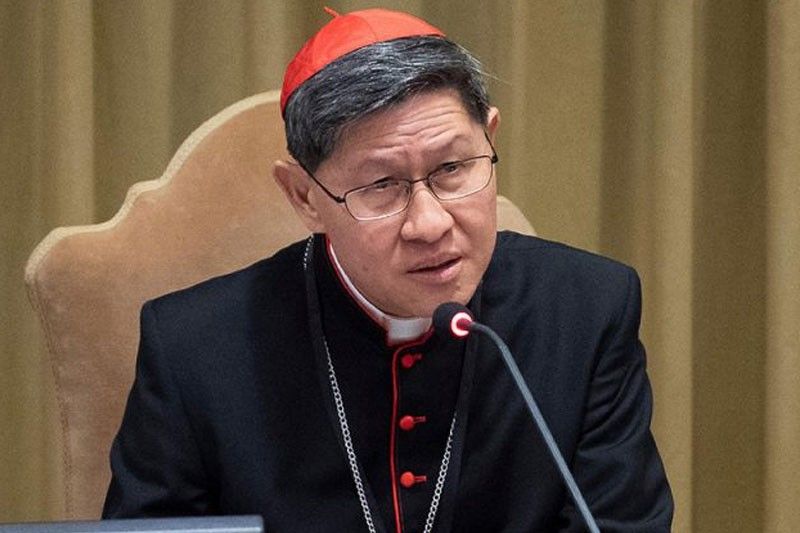 Cardinal Luis Antonio Tagle, president of Caritas Internationalis. interaksyon / Vatican Media via CBCP News
MANILA, Philippines — An official of the Pontificio Collegio Filippino (PCF) urged the Catholic faithful to pray for former Manila Archbishop Luis Antonio Cardinal Tagle after Pope Francis assigned him to several tasks when he was ousted from Caritas International, the charity arm of the Catholic Church.
In an interview with Church-run Radyo Veritas, PCF Rector Gregory Ramon Gaston said that Tagle needs the people's prayer as he emphasized that Pope Francis gave Tagle other assignments, including efforts to assist the new officials of Caritas International.
"We really need to pray for Cardinal Tagle because he has so many assignments in different offices of the Vatican. Even other groups of the church, governments, private organizations and individuals all over the world," Gaston said in Filipino.
He added that many people also want to talk to and consult with Tagle.
Gaston clarified that Tagle was not removed from Caritas International, but the decision of Pope Francis to name temporary officials in the organization came in at the last term of the cardinal who was elected president in 2015.
He also emphasized that Tagle will be able to give more attention to expanding the services of Caritas International as he is no longer focused on the central office of the Vatican alone, since he was tasked to coordinate with the social arm in every diocese around the world.
Pope Francis appointed organizational consultant and administrator Pier Francesco Pinelli as the new administrator of Caritas International, to be assisted by Caritas Internationales advocacy and campaigns manager Maria Amparo Alonso.
Tagle, prefect for the Congregation of the Evangelization of Peoples, reiterated that Pope Francis' decision to change the leadership of the Caritas International was a result of a "careful and independent study" of the Vatican.
He added that the decision does not concern cases of sexual abuse or mismanagement of money as it was meant to be "a call to walk humbly with God" and "a process of discernment."
Tagle left the Archdiocese of Manila in February 2022 after he was appointed to the Vatican, where he was named as a member of the Administration of the Patrimony of the Apostolic Sea (APSA), which served as the Vatican's central bank.
Pope Francis also elevated Tagle to the order of "cardinal bishops," which is the highest rank within the College of Cardinals, making him eligible to become part of the "Dean of Cardinals" that presides at the conclave when there is no pope.